Sabudana Kitchadi/Braised Tapioca
Sabudana Kitchadi is one of my favorite snacks. My friend, Chhaya, made this dish for us at her home, several years ago. As we enjoyed it so much, she shared her recipe.
My first few attempts to make this dish were not successful. I would get a mass of tapioca jelly, rather than a pearl like consistency. With Chhaya's patient instructions & my persistence, I was finally able to get the dish looking and tasting a lot like hers.
Chhaya's tip for a successful outcome is, once the tapioca is added to the ingredients in the pot, it must be quickly blended, just a few seconds & not cook on the heat for a long period.
Once I followed this tip, I achieved good results. Here is the recipe for Sabudana Kichadi, which may be eaten as a main meals as well.
Ingredients
1 cup sabudana/tapioca
1 cup water
1 medium sized potato
1 tsp. salt
1 tsp.mustard seeds
1 tsp.cumin seeds
¼ tsp turmeric powder (optional)
1 tsp. cumin powder
½ cup crushed peanuts
¼ cup chopped cilantro/coriander leaves/dhania
2-3 finely sliced green chilies. (use fewer or none, if you don't like spicy food)
3 teaspoons of lemon juice
4 tblsp. Canola oil
Method
Rinse Sabudana. Add 1 cup of water & let it soak for at least 8 hours. Toss after a few hours so all sides absorb water
Peel and cube potatoes into small pieces
Either boil potato in water, or microwave potato in a small bowl of water for 5 minutes
The potato is ready when it feels soft to the touch. Keep aside
Wash coriander leaves & chilies. Chop finely
Roast peanuts or use the store bought variety & crush with a mortar and pestle or any method you prefer
Heat oil. Add mustard & cumin seeds. The seeds will pop, so keep the lid on
If using turmeric, add at this stage. Add the potatoes & chili and sauté
Sprinkle salt. When potatoes are soft, add sabudana/tapioca. Stir to blend in with spices for about 2-3 seconds
Now add the crushed peanuts, followed by chopped cilantro & lemon juice
Stir all ingredients. Test for salt. Then remove from heat
Serve & enjoy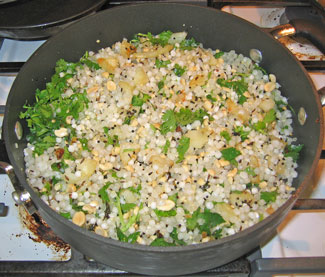 Sabudana Kitchadi Just cooked in pan. No turmeric used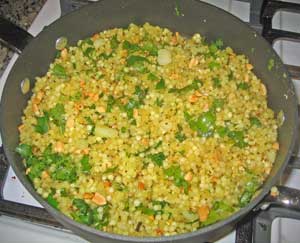 Sabudana Kitchadi when cooked with turmeric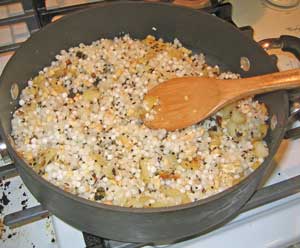 Sabudana Kitchadi, almost the final stage of cooking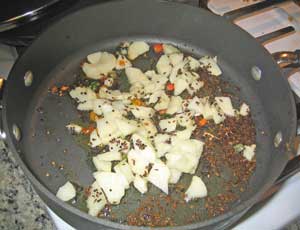 Potato braising in a mix of chili, mustard & cumin seeds
Sabudana/Tapioca in it's orginal state, on left. On the right, Sabudana after being soaked
For other recipes by Chhaya check:
Sautéed Bell Peppers with Chickpea Flour
If you have any questions or would like to add a recipe of your own, email me, Nirmala, at

.
I will be happy to help in any way I can. The site will be regularly updated with tasty recipes, hints and tips. You can also reach me at Contact
Navigate these convenient links for easy access to the next destination.